POWDER STRIP COATED ALUMINUM
IN COIL OR SHEET METAL FORMATS.
LuxeCoat powder polyester powder strip coatings are burnt in with a special powder that guarantees maximum flexibility and formability. The layer thickness is 60 µ minimum. Thanks to the premium ROHS-compliant chrome free pre-treatment on a Zirconium base, which has a small ecological footprint, the product, if the processing guidelines are complied with, is permanently corrosion-proof.
The rear of the standard version is coated with PE protective paint with a thickness of approx. 3 µ. This improves the sliding capabilities in conjunction with cutting, edging, stamping and nibbling processes and also boosts the corrosion resistance.
LuxeCoat powder is an excellent solution for the fabrication of façade siding, sandwich elements, accessories for roofing and wall coverings, signs as well as windows and doors. The use of special PE powders guarantees maximum resistance against environmental impact paired with optimum mechanical forming characteristics.
The non-combustible classification and the infinite spectrum of possible applications make LuxeCoat powder the ideal solution for all imaginable indoor and outdoor applications.
Let your creativity take you to new heights – LuxeCoat powder can be manufactured in a virtually limitless palette of colors – in compliance with RAL, NCS, DB, Sikkens or your own color concept. Glossy, silky matte, matte, structured, coated on both sides – everything is possible!
LuxeCoat powder is the original powder strip coating solution and the first choice of planners, architects, designers and builders.
A WIDE SPECTRUM OF APPLICATIONS
AND EASY HANDLING
Thanks to many years of production experience, LuxeCoat powder offers the best edging and forming properties among the coil coating products available on the market today. The flexible special powder coating allows for edging with interior bending radiuses ranging from T0 to T1, depending on the thickness of the material and the individually deployed variant of alloy.
Our innovative strip coating process guarantees the even application of our powder at a minimum thickness level of 60 µ.
SIMPLE HANDLING
LuxeCoat powder offers optimum edging and forming properties for coil-coating products. The flexible special powder coating allows for edging of T0 to T1, depending on the thickness of the aluminum.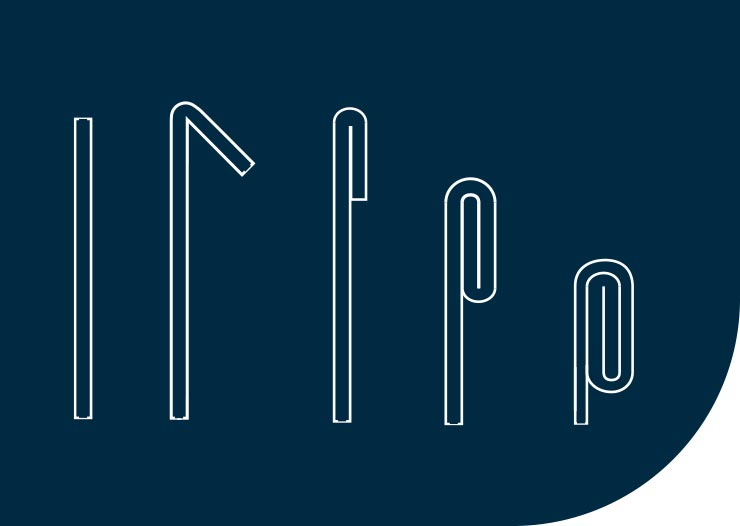 BASE MATERIAL
We procure our aluminum strips in alloy series 3 and 5 from carefully selected aluminum roller plants in and outside of Europe. We impose exacting standards when it comes to the quality of our base products in alloy conditions we specifically define.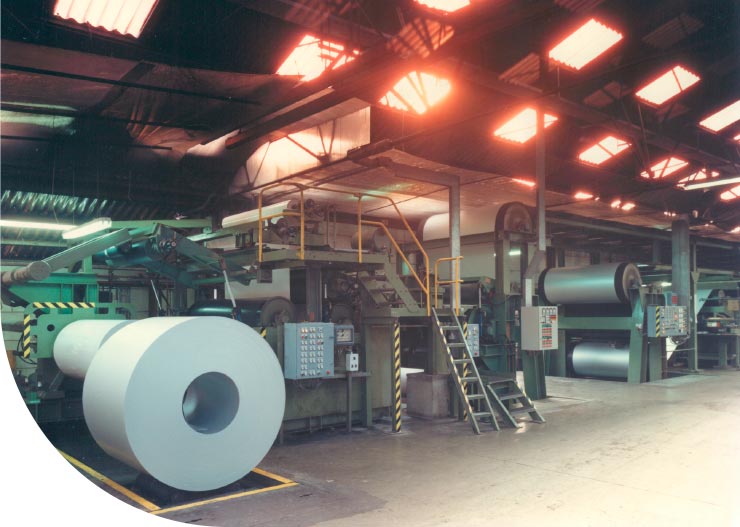 COATING
The polyester powder we use was developed specifically to permit extreme forming capabilities in combination with a continuous low temperature burn-in process and to guarantee excellent impact resistance when used outdoors.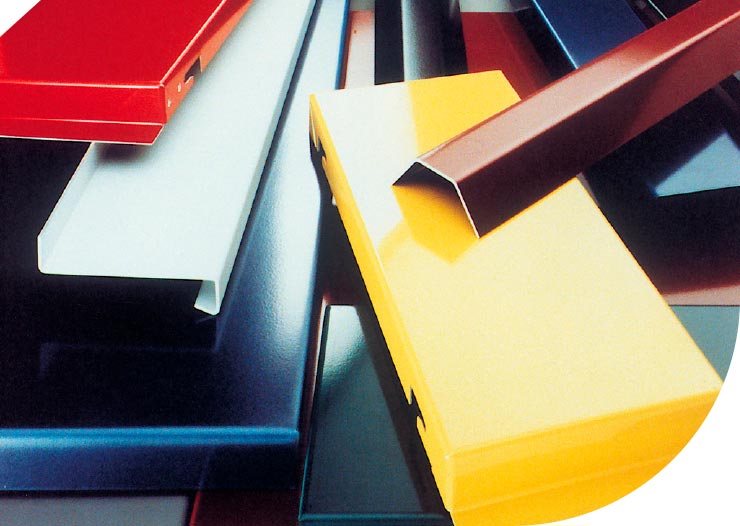 STRIP PAINTING
Our strip painting process was up-dated to the state-of-the-art in 2010 and guarantees the even and controlled coating with our powder with a minimum thickness of 60 µm.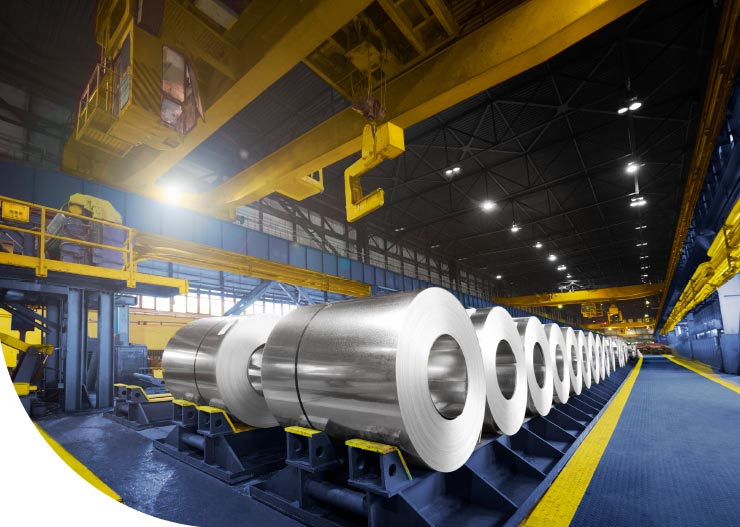 SURFACE PROTECTION
A UV-resistant and easy to remove protective film with a thickness of 80 µ is glued on to the surface, which ensures that the surface is protected against damages during all handling and further processing steps.
QUALITY CONTROL
Our laboratory boasts ultra-modern technology and tests all system parameters, base materials and end products in compliance with the most stringent quality guidelines. All of the materials we use can be traced back without any limitations. Our tests comply with the test standards of the ECCA and standardized testing requirements.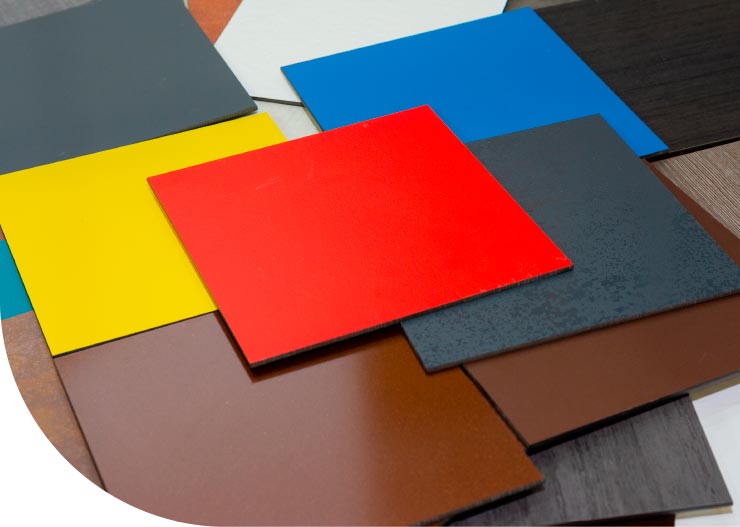 CERTIFICATES
LuxeCoat is ISO 9001 V.2008 certified (quality management)

TECHNICAL DATA
Product description
Semi-finished aluminum product coated with PE powder in the powder coating process with excellent edge properties.
Application
Facade cladding for new and old buildings in individual and industrial construction, advertising signs, cladding for brown and white goods and various applications in the processing industry.
Fire protection
Class A2, non-combustible
Processing
Can be bent up to 180 degrees with bending inner radii of T1 without cracking
Alloy
Various alloys of series 3, 4 and 5
Dimensions
0.80 - 3.00 mm thickness, widths up to 1,500 mm, lengths up to 6,000 mm, overlengths and slit strips from 10 mm strip width on request
Strength
H42 / H44 / H111 according to EN standard 1396
Coating
Edging grade polyester powder
Visible side
Single-layer powder approx. 60 μ with UV-resistant protective film
Backside
PE protective coating, improved corrosion resistance, optimum sliding properties for further processing.
Carrier material
Thickness tolerances according to EN 485-4, backing material corresponds to nominal thickness
Gloss
RAL 9010 + 9016 approx. 90 units; other RAL colors approx. 80 units, special gloss levels approx. 20 - 100 units and surface structures according to customer requirements on request
Color palette
all-embracing assortment in uni, metallic and structure lacquer
Protective foil
Transparent or white
Quality
According to EN standard; ECCA
Wastewater Ordinance
According to ATV-DVWK-M 153, no special measures are required, since no harmful heavy metal erosion is present.
Recycling
Powder-coated aluminum can be fed into the recycling loop without any problems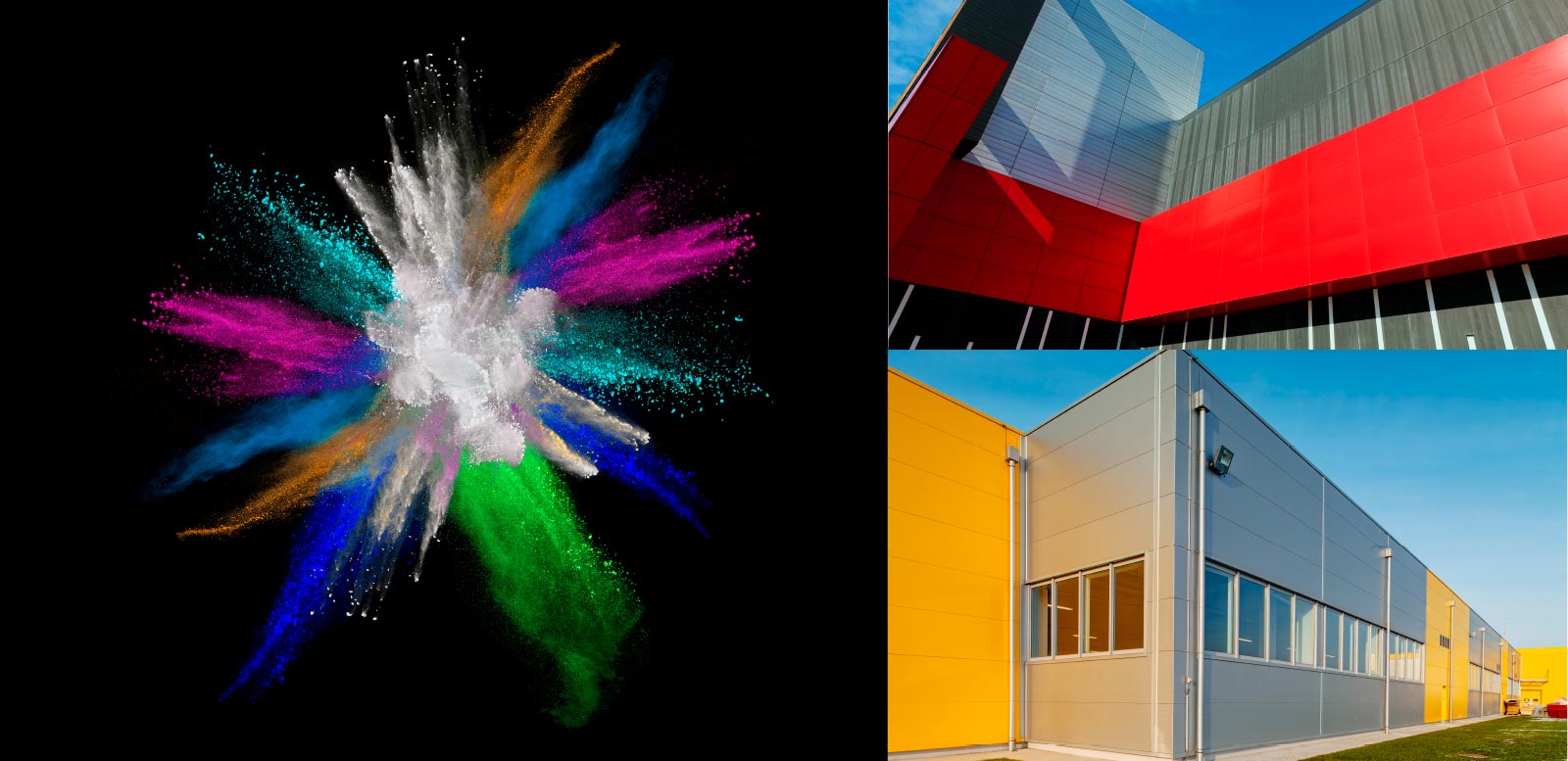 otefal coating GmbH
Silcherstraße 3
D-75045 Walzbachtal
T +49 (0) 7203 9137-0
F +49 (0) 7203 9137-20
info@otefal-coating.de